Auxiliary Aids and Services to the deaf and hard of hearing policy:
It is the policy of Southeast Florida Behavioral Health Network to accommodate consumers or companions who are deaf or hard-of hearing by providing auxiliary aids and services to assure effective communication between SEFBHN staff and consumers or companions, and to accommodate consumers during public meetings and training seminars at SEFBHN.
It is also the policy of Southeast Florida Behavioral Health Network to provide foreign language translation for consumers with limited English proficiency who contact the agency. For assistance with these accommodations, please contact the SEFBHN team at 561-203-2485.
Non Discrimination Policy:
No person shall, on the basis of race, color, religion, national origin, sex, age, disability, sexual orientation, or gender identity, be excluded from participation in, be denied the benefits of, or be subjected to unlawful discrimination under any program or activity receiving or benefiting from federal financial assistance and administered by SEFBHN.
Civil Rights/Discrimination Complaints /Grievances can be filed:
Assistant Staff Director for Civil Rights
1317 Winewood Boulevard
Building1, Room110
Tallahassee, FL. 32399-0700
(850) 487-1901
Disability Rights Florida
2473 Care Drive #200, Tallahassee, FL 32308
(800) 342-0823
US Department of Health & Human Services Office for Civil Rights
Atlanta Federal Center,Suite 3B7061 Forsyth Street, SW
Atlanta, GA. 30303-8909
(404) 562-7881
Non Discrimination Policy:
Pursuant to the requirements of Title VI of the Civil Rights Act of 1990, as amended, Title II of the Americans with Disabilities Act (ADA) and Section 504 of the Rehabilitation Act of 1973 and Limited English Proficiency (LEP). Authority: 45 CFR, Part 80, and CFOP 60-16, Method of Administration.
Consumer Satisfaction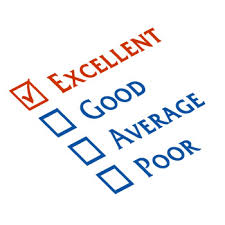 The Substance Abuse and Mental Health (SAMH) Community Consumer Satisfaction Survey(SCCSS) is based on a survey instrument for adults and children originally developed by the Mental Health Statistics Improvement Project (MHSIP) Task Force sponsored by the Substance Abuse and Mental Health Services Administration (SAMHSA), Center for Mental Health Services (CMHS), to meet the Federal data requirements of the Consumer-Oriented Mental Health Report Card.
Please be sure your agency representative ensures that consumers complete page 1 and 2 of the survey. Please keep in mind the survey questions differ between adult and children starting with question eleven.
If there are additional questions related to Consumer Satisfaction Surveys, please contact Tracee Diaz at SEFBHN at 561-484-5164.
Evidence Based Practices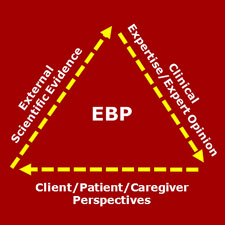 The goal of EBP is the integration of: (a) clinical expertise/expert opinion, (b) external scientific evidence, and (c) client/patient/caregiver perspectives to provide high-quality services reflecting the interests, values, needs, and choices of the individuals we serve. Conceptually, the trilateral principles forming the bases for EBP can be represented through a simple figure:
Key Steps in the EBP Process
Step 1: Framing the Clinical Question
Step 2: Finding the Evidence
Step 3: Assessing the Evidence
Step 4: Making the Clinical Decision
EBP Resources
If there are additional questions related to EBP please contact the SEFBHN team at 561-484-5164.
Continuous Quality Improvement
The Board of Directors for SEFBHN issued a charge to the System of Care and Quality Improvement Committee to form a provider workgroup to focus on quality initiatives. The belief was that the subject matter experts related to Evidence- Based Practice Implementation, Customer Satisfaction, Incident Reporting, Performance and Outcome Measures and other Quality Issues resided within the network provider organizations. The workgroup is comprised of the Quality Improvement Directors of each of the network provider agencies and meets on a monthly basis. This meeting allows for a very open forum for participants to exchange information and provide input to SEFBHN about both the challenges they face and the success they experience in providing quality services to consumers.
Meeting minutes for CQI meetings will be hosted on our public-facing document repository, Board Docs. View by clicking here.
Coordination of Care
Coordination of Care is the organization of care activities between two or more participants including the person served and their authorized/consented family members involved in an individual's care; in order to facilitate the effective delivery of health care services.
Coordination of Care connects systems including behavioral health, primary care, peer and natural supports, housing, education, vocation and the justice systems. It is time-limited, with a heavy concentration on educating and empowering the person served, and provides a single point contact until a person is adequately connected to care that meets their needs.
At the system level, Coordination of Care is a collaborative effort to efficiently target treatment resources to needs, effectively manage and reduce risk, and promote accurate diagnosis and treatment due to consistency of information gathered and shared.
WE HAVE ESTABLISHED A COORDINATION OF CARE PROGRAM CONSISTING OF 3 COORDINATION OF CARE MANAGERS, HOUSING COORDINATION MANAGER, AND A HOUSING SPECIALIST TO:
Provide data informed surveillance to identify individuals in need of care coordination.

Identify and contract with provider(s) to provide service coordination with clear expectation and ongoing monitoring.

Identify, manage & monitor care coordination funds for purchases of needed services/supports.

Monitor outliers, target priority populations, and need for additional/different services.

Ensure network adequacy and manage resources.

Assess and address quality of care issues based on established standards of care.

Develop cross system partnerships and agreements for information sharing and coordination.
THE FOCUS OF OUR COORDINATION OF CARE ACTIVITIES WILL BE ON THE FOLLOWING POPULATIONS:
Persons with a Severe Mental Illness (SMI) awaiting placement in a civil or forensic state mental health treatment facility (SMHTF) or awaiting discharge from a SMHTF back to the community.

Individuals who account for a disproportionate amount of behavioral health expenditures including high utilizers of Crisis Stabilization and Substance Abuse Detoxification.

Persons with a SMI and/or Substance Use Disorder (SUD) who have a history of multiple arrests, involuntary placements, or violations of parole leading to institutionalization or incarceration.

Caretakers and parents with a SMI and/or SUD involved with child welfare.

Children involved in the Department of Juvenile Justice or Child Welfare systems, or identified as a high utilizer of crisis services.
COORDINATION OF CARE CORE COMPETENCIES:
Coordination of Care connects systems including behavioral health, primary care, peer and natural supports, housing, education, vocation and the justice systems. It is time-limited, with a heavy concentration on educating and empowering the person served, and provides a single point contact until a person is adequately connected to care that meets their needs. Core competencies of Care Coordination include:
Single point of accountability – Care Coordination provides for a single entity responsible for coordination of services, supports, and cross system collaboration to ensure the individual's needs are met holistically.

Engagement with person served and their natural supports - the care coordinator goes to the individual and builds trust and rapport. The care coordinator actively seeks out and encourages the full participation of the individual' networks of interpersonal and community relationships. The care plan reflects activities and interventions that draw on sources of natural support.

Standardized assessment of level of care determination process – a standardized level of care assessment provides a common language across providers that can assist in determining service needs.

Shared decision-making – family and person centered, individualized, strength-based plans of care drive the Care Coordination process. The perspective of the individuals served are intentionally elicited and prioritized during all phases of the Care Coordination process. The care coordinator provides options and choices such that the care plan reflects the individual's values and preferences.

Community-based – services and supports take place in the most inclusive, most responsive, most accessible, and least restrictive settings possible that safely promote an individual's integration into home and community life.

Coordination across the spectrum of health services (physical and behavioral health) and social services, housing, education, and employment.

Information sharing – releases of information and data sharing agreements are used as allowed by federal and state laws, to effectively share information among service providers, natural supports, and system partners involved in the individual's care.

Effective transitions and warm hand-offs - current providers directly introduce the individual to the care coordinator. The "warm hand-off" is both to establish an initial face-to-face contact between the individual and the care coordinator and to confer the trust and rapport the individual has developed with the provider to the care coordinator.

Culturally and linguistically competent - the Care Coordination process demonstrates respect for and builds on the values, preferences, beliefs, culture, and identity of the individual served, and their community.

Outcome based – Care Coordination ensures goals and strategies of the care plan are tied to observable or measurable indicators of success, monitors progress in terms of these indicators, and revises the plan accordingly.